Kaksi nuttua

, yksi kullekin säädylle
Two short gowns, one for each order
Vadelmanpunainen nuttu, sininen villamekko ja nahkakengät Kalastajankadun tekstiilikonservaattorin pöydällä. The rasberry red short gown, the wool petticoat and the leather shoes. Textile conservation in Kalastajankatu, Turku. Kuva / Photo: neulansilmanlapi.blogspot.fi
Jokainen rekonstruktio alkaa tutkimuksesta. Hienointa on, mikäli objekti on säilynyt, mutta joskus työn joutuu tekemään toisenlaisten lähteiden, kuten kuvien, fragmenttien, tutkimuskirjallisuuden ja näihin liittyvän tietotaidon soveltamisen kautta. Tämän Paperinukke-projektiksi ristimäni haasteen lähtökohdat ovat siinä mielessä onnelliset, että esikuvina toimivat kokonaiset säilyneet esineet, joten mahdollisia valmistustekniikoita ja materiaaleja ei tarvitse hakea kirjallisuudesta. Toisin sanoen: vaatteet toimivat projektin pääasiallisena lähteenä ja sisältävät kaiken tarvittavan tiedon. Huhtikuussa minulla oli ilo ja etuoikeus päästä kurkistamaan Turun museokeskusen varastoon, jossa paperinukessa esiteltyjä vaatteita ja asusteita säilytetään.
Every reconstruction project begins with research. In an ideal situation, the object is preserved. In other cases you have to piece the object you are attempting to reconstruct from secondary sources, such as images, textile fragments, research articles and books and by the practical knowhow available. This starting point for my "Project: Paperdoll" is rather ideal, since the garments actually exist and are preserved. This makes many things easier, since I do not have to pour through volumes of research in order to find the appropriate materials and techniques. Plainly speaking: the garments are the source and all the information is there. Last April I had the joy and privilege to peak inside the collection storage room in Turku Museum Centre, where they keep the garments and accsessories that are shown in the the paperdoll.
Nuttu vai röijy?
Is it a short gown or a jacket?
Koska nukkeen kuuluu kaksi nuttua, päätin tarkastella niitä samanaikaisesti, vaikka suunnitteilla oleva rekonstruktio koskeekin vain punaista nuttua. Suomessa käytettyjen ja säilyneiden jakkumaisten vaatteiden terminologia ei ole aina selvää ja joskus käytetyt termit vaihtelevat niin tutkimuskirjallisuudessa kuin kokoelmatiedoissa. Alla olevat vaatteet on nimetty Riitta Pylkkäsen Säätyläisnaisten pukeutuminen Suomessa 1700-luvulla (1982) nutuiksi. Aikalaislähteissä kyseisen termin ruotsinkielinen vastine on "kofta" tai "kåfta". Kuitenkin punaista vaatetta saatetaan nimittään etenkin kansallispukuja koskevassa kirjallisuudessa röijyksi.
Nutun ja röijyn ero löytyy Pylkkästä mukaillen leikkauksesta: nuttu leikataan kahdesta yhtenäisestä etu- ja takakappaleesta, jotka ommellaan yhteen keskitakasaumasta ja sivuilta niin, että yhtenäinen sauma kulkee hihansuusta helmaan. Röijynä pidettävissä jakuissa sen sijaan on erilliset istutetut hihat ja olkasaumat. Molemmat vaatteet saattavat näyttää kauempaa hyvin samankaltaisilta. Aikakauden räätäleiden voi kuitenkin olettaa tehneen selvän eron näiden jakkutyyppien välillä, sillä vaadittavien mittojen määrä oli röijyssä suurempi kuin nutussa. Nuttu oli lähinnä rokokooajan säätyläisnaisten arkivaate, jonka hienommat versiot kelpasivat myös juhlaan. Röijyä pidettiin vielä tuolloin kansanomaisena vaatteena. 1700-luvun lopulla uusklassismin ja luonnollisuuden ihailun myötä röijyt ilmestyivät myös säätyläisnaisten vaatevarastoihin ja perukirjoihin Kustaa III:n nimeä kantavalla aikakaudella.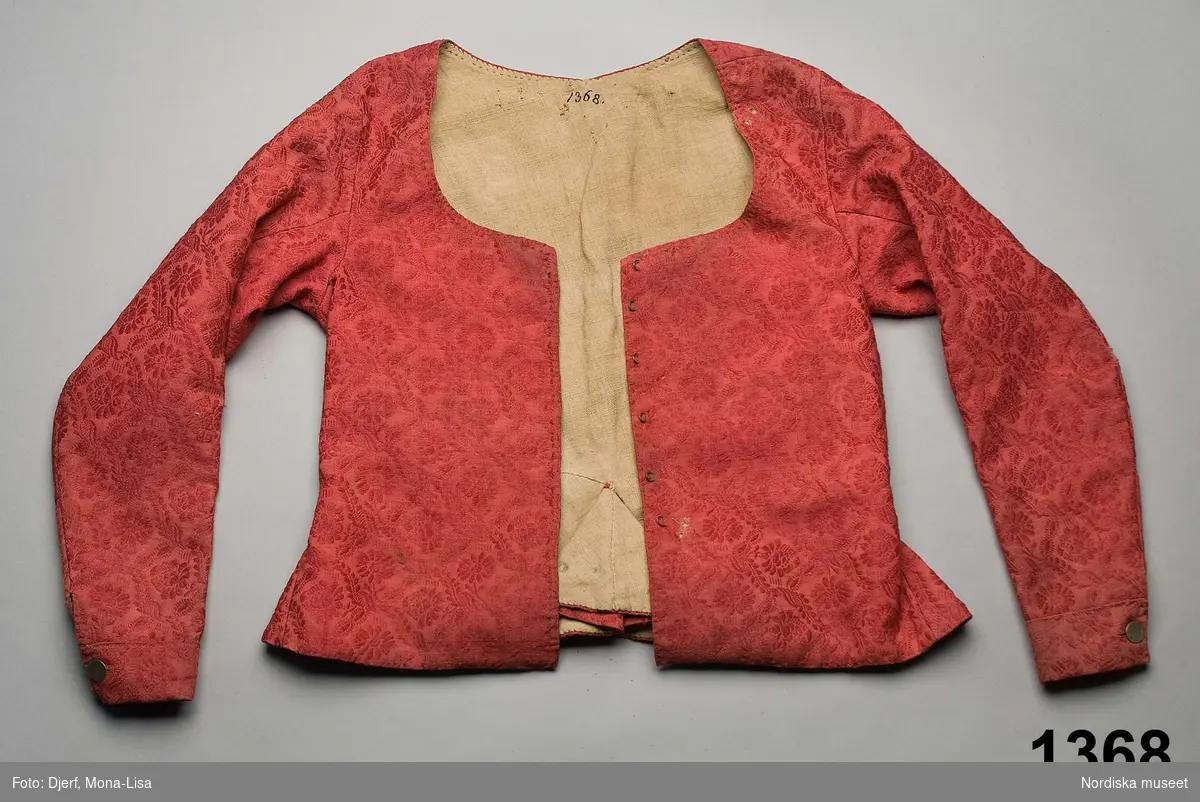 1700-luvun loppupuolen ruotsalaisessa kuviokudotussa villakamlottiröijyssä on istutetut hihat. The pattern woven wool jacket from the latter part of the 18th century Sweden has separately cut and set sleeves. Nordiska museet.
Since there are two sc. short short gowns in the set, I decided to take a look at them both, although I've only planned on attempting to reconstruct the red one of the two. The terminology of the extant jacket type garment in Finland is not always clear and can vary in different publications and collections. I've followed the terminology used by the Finnish costume historian Riitta Pylkkänen in Säätyläisnaisten pukeutuminen Suomessa 1700-luvulla (The Dress of Gentlewomen in 18th century Finland) (1982) and use the term short gown in translation. The swedish word in contemporary records is "kofta" or "kåfta". Despite this, the red garment is often referred to as a jacket ("tröija" in Swedish and "röijy" in Finnish) in the litterature conserning folkdress.
There seems to have been a rather clear distinction between the two, though: the short gowns in Finland were cut with two undivided front- and back pieces. These were sewn together at the cent

er

back seam and at the side seams that run from the sleeve opening to the hem. The jackets called "röijy" had separately set sleeves and shoulder seams. Though the look and shape of these garments could be very simialr, the distinction between the two was most likely clear to the tailors of the day, since the amount of measurments required to make a "nuttu" or a "röijy" differed considerably. During the rococo the short gown/nuttu was an everyday garment for the gentlewomen and the finer ones could also be used on festive occasions. The jacket/röijy was considered to be a commoners garment until the last quarter of the century. At this time, the neoclassical ideals and admiration of the natural gave the common jacket/röijy a boost and it landed into gentlewomen's wardrobes and wills during the epoch named after king Gustav III.
Punainen nuttu
The red short gown
1780-luvun nutun etupuoli. Etuosan valkoiset langat ovat ilmeisesti myöhempi lisäys. Nuttu on suljettu todennäköisesti neuloin. The front of the 1780's short gown. The white threads seem to be a later additon. The garment was most likely pinned suht with needels. TMK 6120. Kuva / Photo: neulansilmanlapi.blogspot.fi
Vadelmanpunainen nuttu on peräisin Salon Uskelasta ja se on ajoitettu 1780-luvulle ja saapunut museolle 1899. Tekstiilikonservaattori Tanja Huikurin kurkistus mikroskooppiin vahvisti vadelmanpunaisen kankaan kuteen ja loimen olevan villaa. Tiukkakierteisestä langasta kudottu palttinasidoksinen kangas on nk. villakamlottia, jota kansannaiset käyttivät usein arvokkaimpien liivien, nuttujen ja röijyjen materiaalina. Kyseinen röijy on myös Salon naisen kansallispuvun röijyn esikuva.
The rasberry red short gown comes from Salo Uskela and it's dated to 1780's. With a peak in to the microscope, textile conservator Tanja Huikuri could confirm that both the weft and the warp are wool. The tightly spun plainwoven fabric is called "kamlott" in contemporary sources. It was a valued and popular choice of fabric for bodices, jackets and short gowns among the common women in Finland at the time. This short gown is also the model for the woman's folk dress in Salo.
Kimonohihaisessa nutussa ei ole lainkaan olkasaumoja eikä erillistä liitoskohtaa hihan ja vaatteen välillä. The kimono sleeved short gown does not have any seams at the shoulders or between the sleeves and the body of the garment. TMK 6120.
Kuva / Photo: neulansilmanlapi.blogspot.fi
Nutun selässä on haarukkaleikkaus, jonka ansiosta sivusaumat asettuvat selän puolelle. The back has a fork-shaped cut that moves the sides seams towards the back. Kuva / Photo: neulansilmanlapi.blogspot.fi
Nutun vuorikangas on vaaleaa ja karkeahkoa kasvikuituista palttinakangasta, todennäköisesti pellavaa, hamppukangasta tai näiden sekoitetta. Takaosan helmakörtit ja sivukiilat oli vuorattu ohuemmalla kankaalla kuin muu nuttu. The lining appears to be made of a coarser plain woven plant fibers, possibly linen, hemp or a blend of each. The back skirts of the hem and the side gore were lined with a finer fabric. TMK 6120.
Kuva / Photo: neulansilmanlapi.blogspot.fi
Vadelmanpunainen villakamlotti on tiheäsidoksinen, mutta langan laatu vaihtelee paikoitellen. Huolitteluun on käytetty osin tai täysin valkaistua lankaa, joka on todennäköisesti pellavaa. Kuitenkin osa saumoista on silmämääräisesti tarkasteltuna ommeltu erivärisella, tumman rusehtavalla langalla. Se, onko langan tumma sävy värjäyksen tai esimerkiksi likaantumisen tulos, jäi arvoitukseksi. The rasberry red wool is densly woven, but the quality of the thread varies here and there. The sewing thred used for finnishing appears to have been partially or complitely bleached linen. But, a closer inspection reveals that some of the seams have been sewn with a dark brownish thread. But, are they dyed or just smudged with dirt?

TMK 6120. Kuva / Photo: neulansilmanlapi.blogspot.fi
Helmakörtti vuoripuolelta kuvattuna. The skirt of the hem pictured from the inside. TMK 6120. Kuva / Photo:neulansilmanlapi.blogspot.fi
Sininen nuttu
The blue short gown
TMK 15284.
Kuva / Photo: neulansilmanlapi.blogspot.fi
Sininen silkkunuttu edustaa myöhempää muotisuuntausta ja se on ajoitettu 1780 - 1790-luvuille. Sen vaihtelevan levyinen raitakuosi on kauniisti hohtavaa silkkiä ja vaate on silmämääräisesti tarkasteltuna erittäin hyvässä kunnossa. On melkein mahdotonta uskoa, että sillä on ikää yli 200 vuotta. Kokoelmiin se on liitetty 1958. Ompelujälki on siistimpää kuin punaisessa nutussa, joka saatta osin johtua ohuemmaista ompelumateriaaleista.
The other short gown represents a later style and it's dated to 1780's - 1790's. The fabric is very fine with a varying woven striped and still retains much of it's original shine. It's almost mindboggling to imagine that the garment is really over 200 years old. It was added to the collections in 1958. The stitching looks neater in comparison to the red garments - perhaps due to the finer materials used here.
Lyhytehlmainen nuttu on vuorattu raidallisella kasvikuituisella palttinakankaalla. The short skirted short gown is lined with a plainwoven vegetable fiber fabric. TMK 15284.
Kuva / Photo: neulansilmanlapi.blogspot.fi
Myös tässä 1700-luvun lopun nutussa on muodikas haarukkaleikkaus ja kimonohihat. This short gown has similar kimono sleeves and the fashinable fork-like back as the red one. TMK 15284.
Kuva / Photo: neulansilmanlapi.blogspot.fi
Hihaa on jatkettu erillisellä palasella. Tämä viittaa todennäköisesti siihen, että silkkikankaan alkuperäinen leveys ei ole riittänyt yhtenäisesti leikattuihin hihoihin. The sleeve has been continued with an additional piece of fabric. This suggests that the original width of the fabric was not wide enough for the garments sleeves to be cut as one with body. TMK 15284.
Kuva / Photo: neulansilmanlapi.blogspot.fi
Sivukiila levittää muutoin niukkalinjaisen nutun helmaa vyötärön alapuolella. Kiilan vuori on ommeltu yliluottelupistolla päältä päin. The side gores widen the hem below the waistline. The lining is pieced and stitched from the right side with visible stitching. TMK 15284. Kuva / Photo: neulansimanlapi.blogspot.fi